During the 12 Days of Christmas I shared one of my favorite decor pieces – the hot chocolate bar with a tiered tray. I loved that tiered tray so much that I didn't want to put it away when I took down all my Christmas decor, so today I'm sharing some ways to transition your tray throughout the year. The good news is tiered trays are super popular right now, so you can find all kinds of inspiration on Instagram and Pinterest. I'm going to include my favorite tips along with some things I've picked up from other people.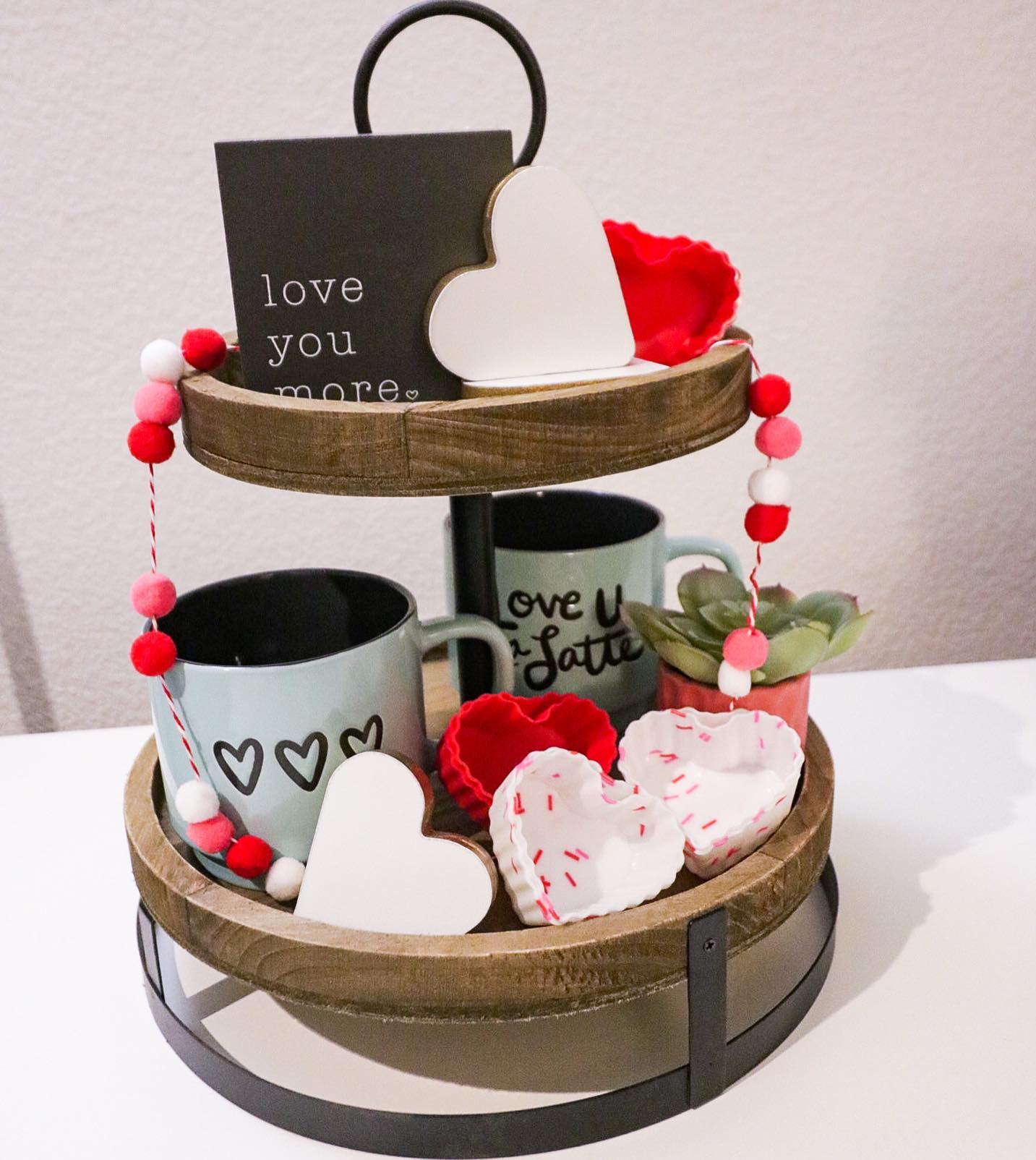 I don't start taking my Christmas decor down until January 6th and it takes me about a week, so it's definitely time for Valentine's decor by the time I'm done! I've never done any Valentine's Day decor so I had to buy some, but y'all…all of this was less than $20! Everything is from the Target dollar spot and and I was so in love with all the Valentine's Day items there. I'll definitely be heading back to get more items when it's time to switch out my decor.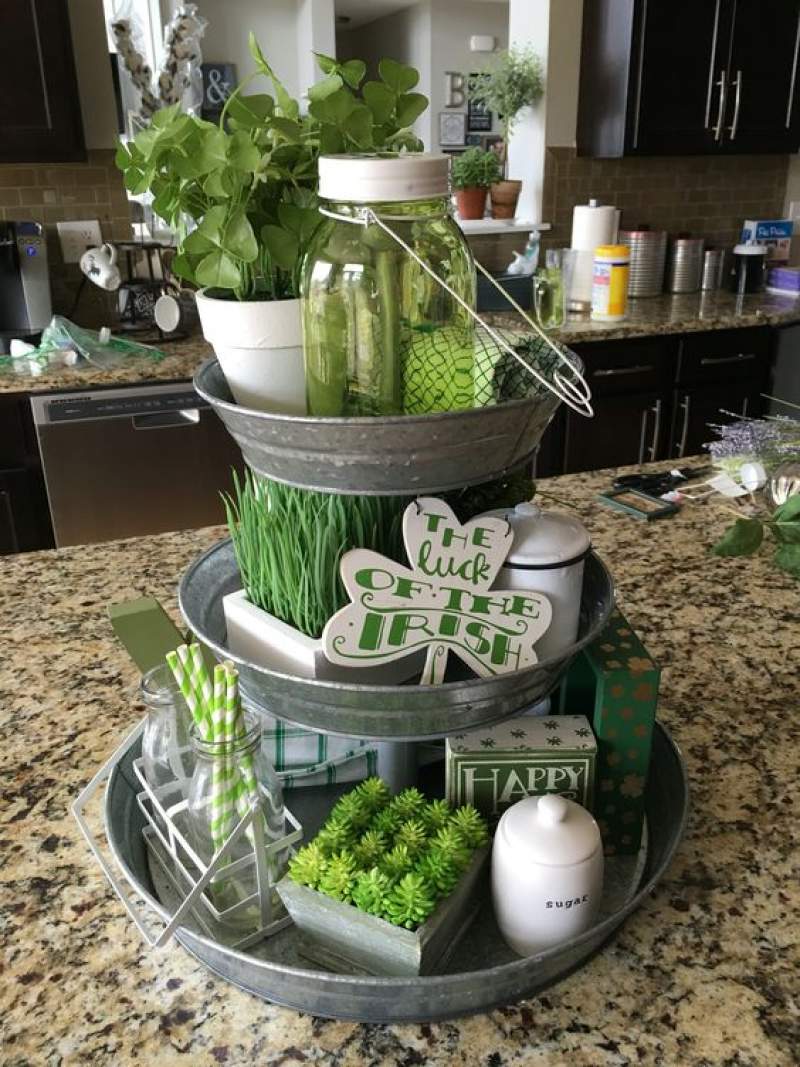 I love this St. Patrick's Day tray because it's not too "cheesy" with the shiny green party decorations. The green plants can be re-used in so many other ways and I love that there's a clover plant instead of cheesy clover things everywhere. Most people don't decorate for St. Patrick's Day, but this is a fun way to add a little touch in your home.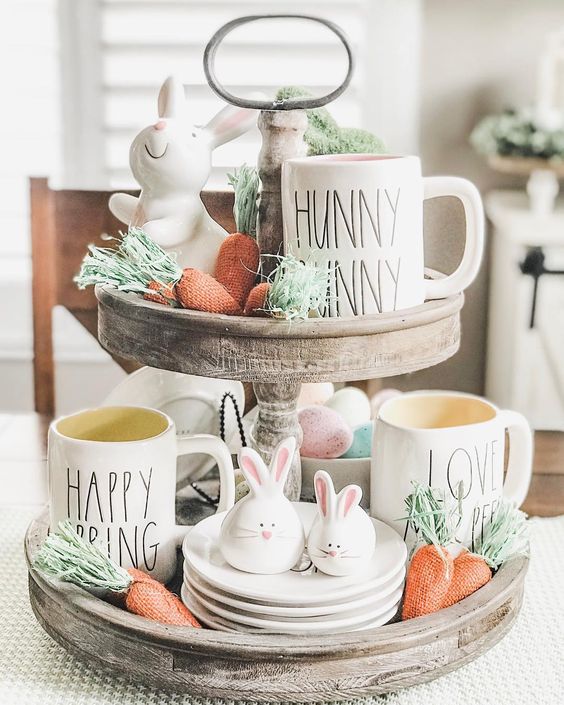 You could do separate looks for Easter and Spring, but I love the idea of combining them. This look has little hints of Easter, but all of it could still easily fit with Spring. This one also has lots of Rae Dunn, which obviously isn't required, but I know a lot of people love displaying their Rae Dunn pieces on tiered trays. I plan on hitting up the Target Dollar Spot again to grab some Spring and Easter goodies, so my look will be much more affordable!
I honestly could not decide on the best kind of Summer look for a tiered tray! I have no idea how I'm going to decide when the time comes. I love the popsicle Summer sign, but I also love the idea of switching things out for the Fourth of July. Now that I live in Florida, the beachy mermaid look is also perfect. How am I supposed to choose?! Let me know in the comments which one is your favorite!
5. Fall/Halloween/Thanksgiving
Y'all know I start decorating for Christmas really early, so I'll probably either skip a Fall tiered tray or just have it for a short time. I included three different ones because there's two ways you could do this: A Fall tiered tray for the whole season or a Halloween tray then a Thanksgiving tray. I love the first one because it kind of combines the two. The little bird has a Halloween feel,  but all the pumpkins are just Fall decor. The little basket and straw really have a Thanksgiving feel to me. I absolutely love the Halloween tray because it has a Hocus Pocus theme! Hocus Pocus is my favorite Halloween movie and I watch it as much as possible during the month of October. The last tray is definitely more Thanksgiving themed with a Thanksgiving sign, corn kernels in jars and no sign of Halloween decor anywhere. Unfortunately, my home is covered in Christmas decor by the time Thanksgiving comes around so I won't be doing a tiered tray like this.
Are you going to transition your tiered tray throughout the year or pack it away until next Christmas! Let me know in the comments! If you're keeping it around, don't forget to tag me in Instagram photos @sugardesignco because I'd love to see how you decorate yours!
-Ciera