Not everyone has a mantle and fireplace. And by "not everyone" I mean A LOT of people! So today I'm sharing a DIY for my favorite Christmas decor piece in my home: A Stocking Birchwood Log! It's the perfect way to hang stockings when you don't have a designated place.
In our five years of marriage, we have yet to live somewhere with a mantle. Now that we're in Florida, fireplaces are a rare find in homes so I don't think we'll have one anytime soon! I was tired of our stockings being tucked in a corner instead of a main part of the decor, so this year I decided to find a way to hang them on the wall. One big plus is I can keep the log up year round!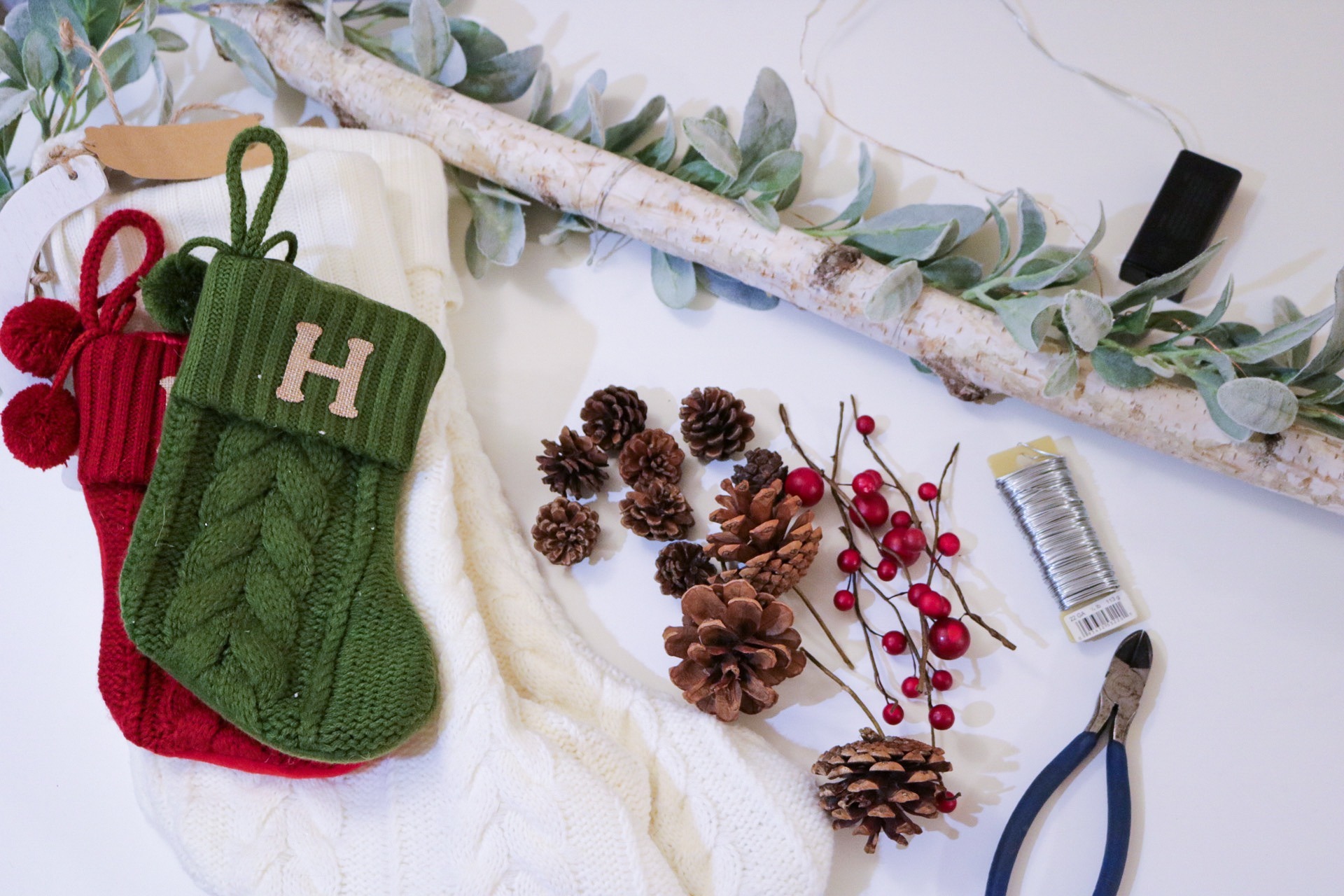 1. Birchwood Log – I used a 4.5 ft pole, but you can use any length!
4. Floral Wire – I used silver because it blends better with the birchwood
5. Battery Fairy Lights – I recommend using multiple strands if you want some extra light in there!
6. Monkey Hooks – These are my favorite hooks because you don't need any tools and they're so easy to use.
7. Stockings – Target doesn't seem to be selling the large white cable knit stockings this year, just green and red. They're still selling the mini versions we use for our cats.
8. Wire Cutters
9. Any other accents you'd like to add: Pinecones, extra greenery, etc.
*I got the wooden monogram tags in the Target dollar section!
Start attaching your garland using the floral wire. It shouldn't take much because this greenery is lightweight. This is mainly to keep the garland in place, so I attached it in five different places, evenly spaced out.
Weave your fairy lights through the garland, tucking them in and molding them to the greenery as much as you can. Most fairy lights are on copper wire, which means they can be bent and made to fit in garland. If you're anything like me, you'll want to use more than one strand. My motto at Christmas is "the brighter, the better!" so I love to add Christmas lights wherever I can. Since these are fairy lights and not really "Christmas" you'll be able to leave these in the garland if you choose to keep your birch log up year round.
Lay out your stockings to figure out the spacing and start attaching them with floral wire. If your stockings tend to be heavy on Christmas morning, I would wrap the wire a few times. Just make sure you put the wire through the stocking loop each time you wrap it. Keep in mind that if you don't get it exactly where you want it, the wire is fairly easy to slide along the birch pole to make adjustments.
This step can be done several different ways. It all depends on how you choose to hang your birch pole really. I used two monkey hooks and when I originally put it up I was using smaller floral wire. That resulted in my husband making this crazy looking multi-loop on each end to slide on the hooks. It definitely works, but if you're using the floral wire I have now (linked above) then you won't need a million loops! You could also tie a rope to each end and hang it by the rope. 
Once your birch pole is hanging on the wall, start adding in your holly berries. If you add them in before you hang it, there's a good chance some will fall out while you're hanging it. So it's best to add them in once it's already on the wall. I left a few inches between each strand of berries so it didn't look too crowded. Once all the berries are added, you can add in any extra details. I used pinecones as faux stocking holders by putting them above each stocking.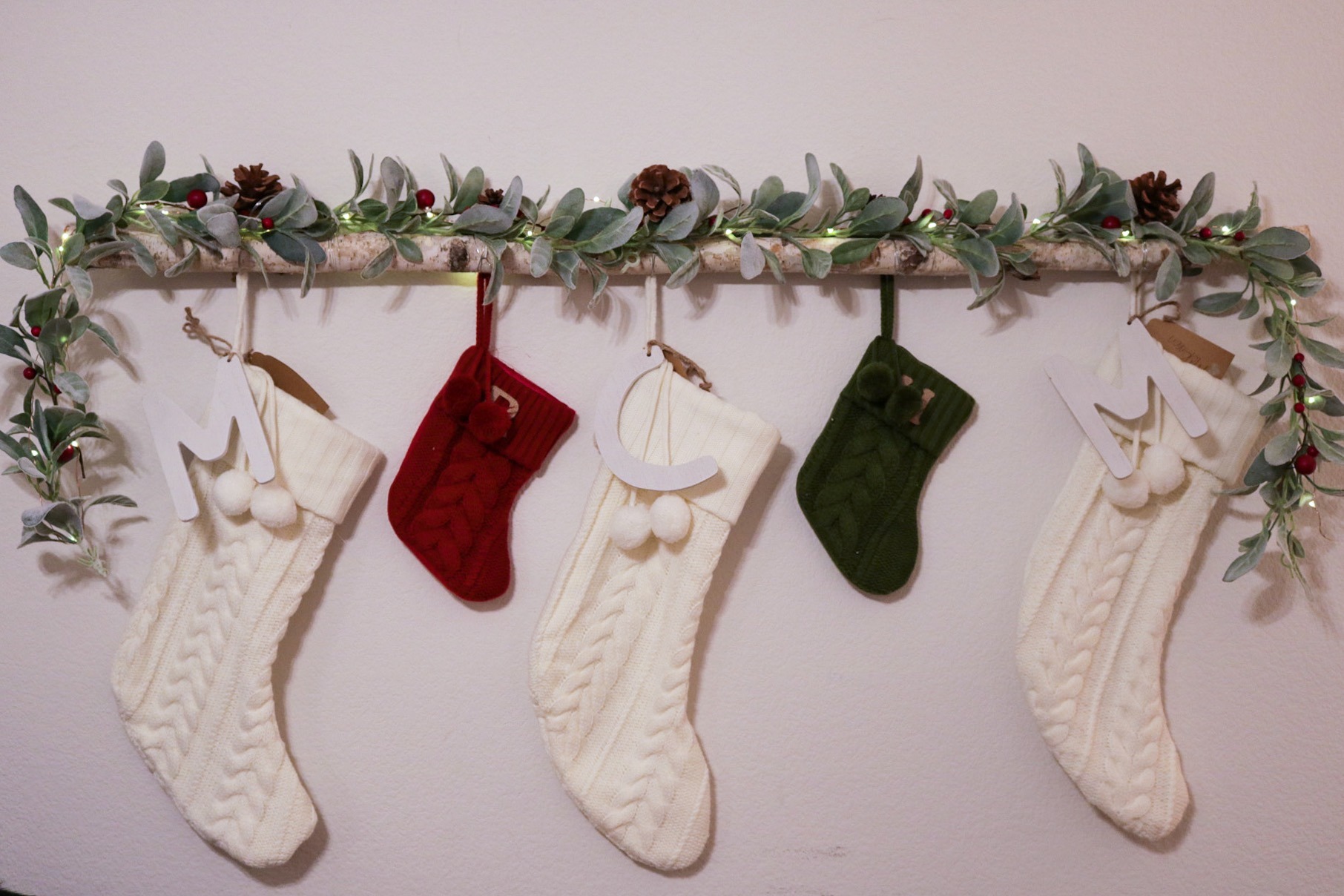 Turn on the fairy lights and enjoy your stocking display! This is one of my favorite decor pieces for Christmas and since putting it up, I've added my letter board sitting on top. During the rest of the year, I have the garland (minus berries and pinecones) with the fairy lights and I use the birch pole as a shelf to hold framed photos. 
I hope you love this as much as I do! If you try it out, don't forget to take a photo and tag me on Instagram @sugardesignco because I love seeing the beautiful decor y'all make!
-Ciera
Disclosure: This post may contain affiliate links that earn me a small commission, at no additional cost to you. I only recommend products I personally use and love, or think my readers will find useful.