Advent calendars are one of my favorite things during the Christmas season! We always get the Disney chocolate advent calendar and we've slowly added more each year because it's just so fun. Last year I decided to add in a DIY advent calendar along with our several store bought calendars and it was a hit! I knew I wanted to do another DIY advent calendar this year, but not the same one. Today I'm sharing what I put together. It's so simple and only takes a few steps!
1. Large Hanging Metal Letter – This is the exact one I used and you can get it in other letters.
2. Jute Twine
4. Numbers – I found a "Countdown to Christmas" scrapbook page at a craft store and just cut out all the numbers
5. Greenery – This is the fresh cedar I used and they also have pine and balsam fir. You could also use artificial.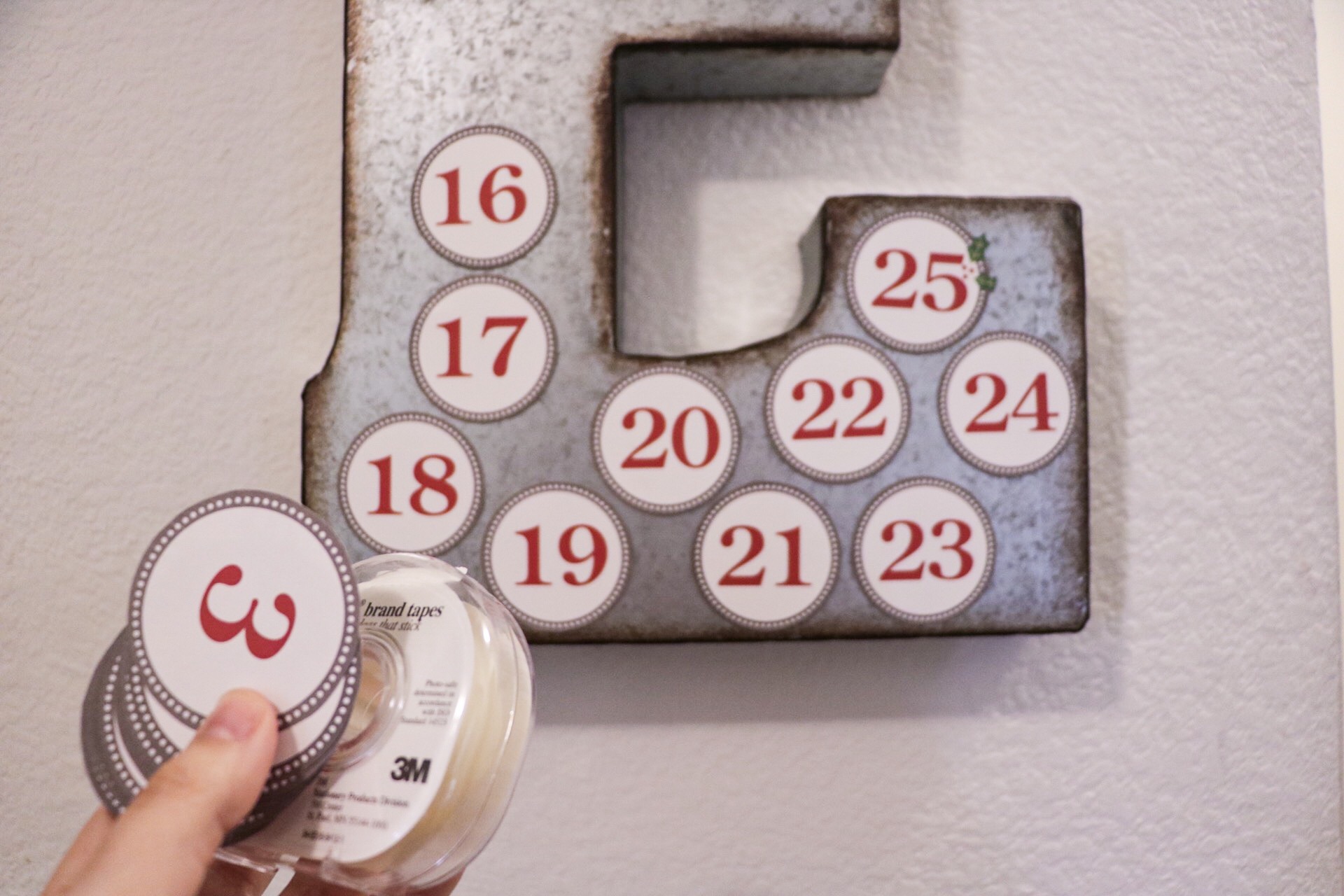 Once you've cut out numbers, tape each one to the letter using your double sided tape. I recommend placing all your numbers on there without tape first so you can figure out the best arrangement before you start taping them down.
Using the jute twine, hang the letter on a wall hook. These are my favorite hooks because you don't need any tools. If you use the same style letter as I did, there will be a little ring in both top corners of the letter that you can loop the jute twine through.
Add any other touches to make it a little more festive! I added fresh cedar and will probably add some other fresh greens as I get more during the season. I plan to move a small Christmas magnet to the next number each day during December. I have a feeling my two year old will love moving it each morning! After the Christmas season is over, I'll just remove the numbers and greenery and keep the big E up on the wall! 
If you do this DIY, be sure to post on Instagram and tag me @sugardesignco because I love seeing the beautiful decor y'all make!
-Ciera
Disclosure: This post may contain affiliate links that earn me a small commission, at no additional cost to you. I only recommend products I personally use and love, or think my readers will find useful.