Of all the amazing things happening during Christmas, opening a card from a friend or family member is one of my favorite things. It just warms my heart. Even the mail is better during the holidays! So when it came time for my first Christmas after getting married, I was so excited to send out cards that I started gathering addresses and writing out personal notes to everyone in early November! I happily put my giant stack of heartfelt Christmas wishes to the side and continued on.
Once the holidays rolled around, we were so busy that I kept forgetting all those cards I had spent so much time on! I had completely failed. There had to be an easier way, right? And I'm not talking about email. I am a firm believer that Christmas cards do not belong in an email.
Enter: Postable!
Postable lets you choose a card design, personalize it, and then they mail all your cards for you! I found postable after my failed attempt at Christmas cards and now I use them for every occasion!

The Christmas after my daughter was born, everything was even more hectic than usual. Postable was an absolute life saver. We were able to send out cards to everyone that had a photo included so family could see how she was doing!
Not only are there tons of designs to choose from (and more being added all the time!) but you also have the option to put your own photos in a lot of them. We had trouble choosing just one last year, so we went with this fun design!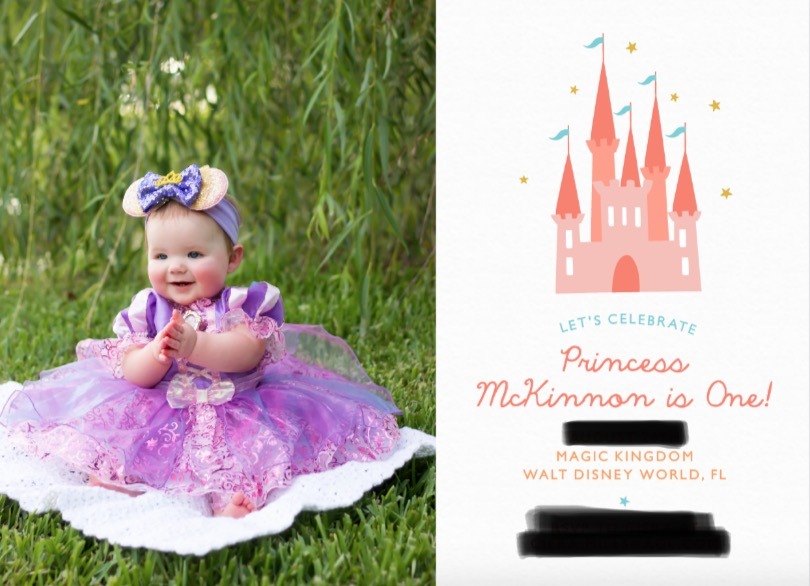 We now use Postable for any occasion, including birthday announcements and invitations! I was so excited to find this castle invite template that fit perfectly with her Disney birthday theme. The back of this was just a big photo of her, so family could keep it and frame it.
If Postable sounds like a good option for your Holiday cards (or birthday invites, business, etc etc, seriously they offer everything!) then ditch the post office this year and send your cards in just a few clicks! You can use the coupon code MRCUQLTT and you'll get $5 off any order over $20!
-Ciera